Fellow Solar Professional,
We wanted to let you know about our great new pricing on Canadian Solar, our fresh supply of Panasonic/Sanyo 220/225/235/240's; as well as SunTech, Samsung and SCHOTT IN STOCK, both coasts!
We also have a couple hundred M210s remaining.  They won't last!
Let us show you how we can help!
Quality products.  Excellent pricing.  Superb service.

 
ENPHASE MICROINVERTERS
M210-84-240-S12s      $160.75 (1-99)     $157.75 (100+)           These are the LAST of the M210s we'll see!  HURRY!!
M215-60-2LL-S22s      $135.95 (1-99)     $132.75 (100+)           Inquire for volume discount.
MODULES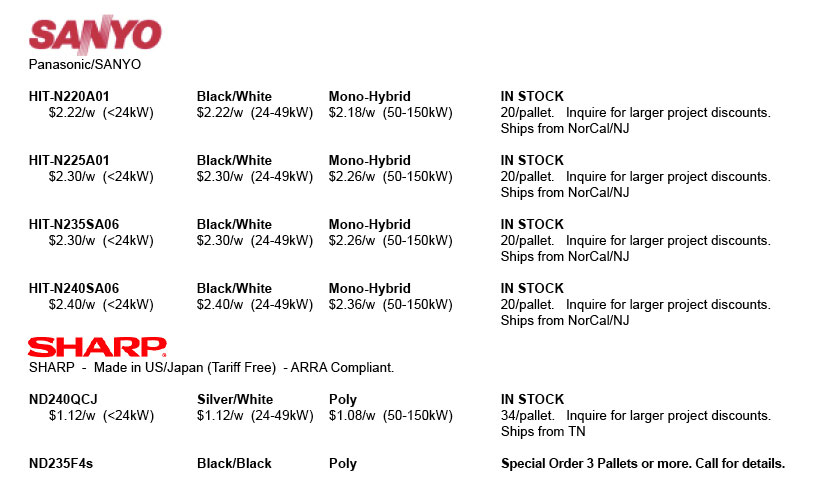 CANADIAN SOLAR FULL PALLET DEALS
Prepaid.  Full Pallets Only.   NorCal/NJ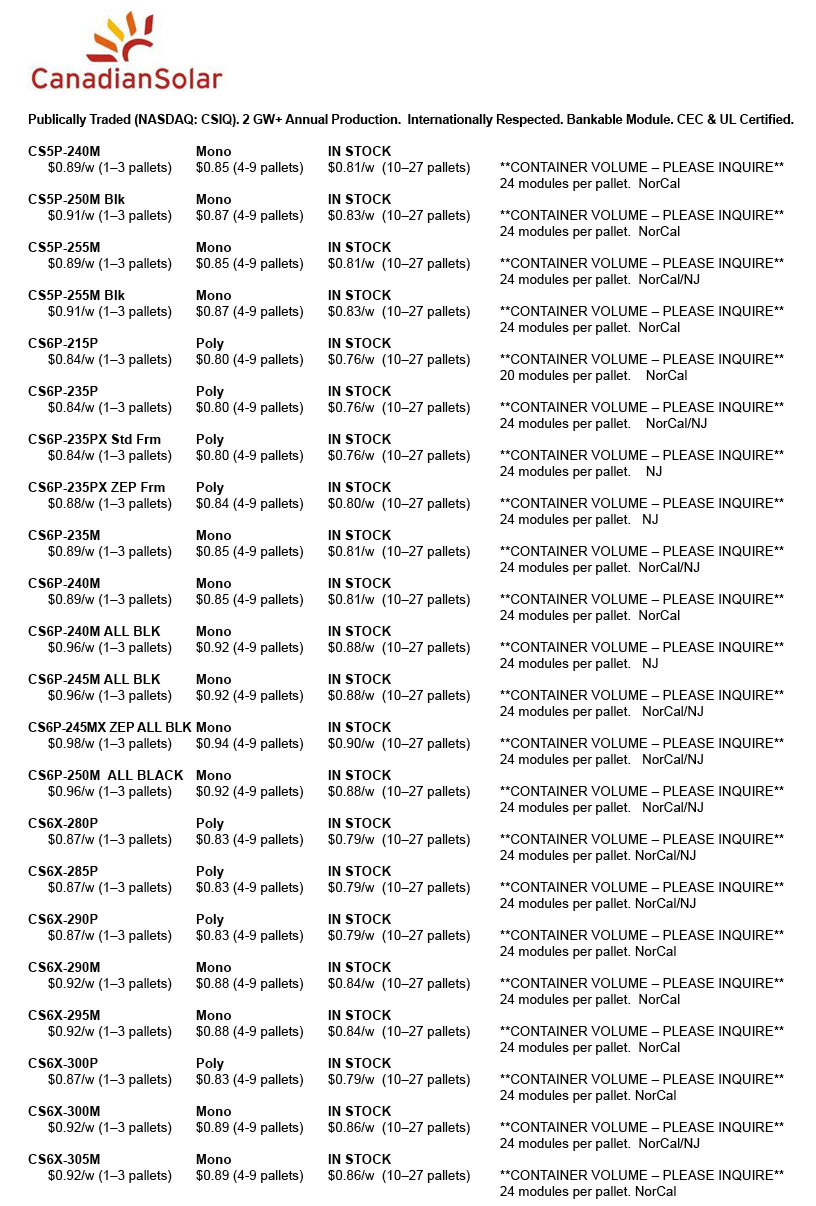 ALSO IN STOCK:  REC Solar, ET Solar, Perlight, Suniva, Solar World, SCHUCO, Siliken, Trina and more are in stock, East Coast and West.
 
INVERTERS & RACKING
We have residential and small commercial inverters in stock – SMA, PV Powered, Solectria, PowerOne, Enphase; with surprisingly quick lead times on our larger commercial inverter solutions.   We have racking solutions from all of the leading brands, designed to best suit your project.  Let us know how we can help.
 
COMMERCIAL PROJECTS

We continue supporting larger commercial and utility scale projects on a special order basis.  Please inquire about our excellent pricing and availability for your next commercial system bids.


PERSONAL SERVICE

If we can be of assistance with any of your designs, project financing or project management, don't hesitate to ask — we're here to help!    Contact one of our Regional Managers or the company headquarters for immediate assistance.
 
Northern CA, OR & WA




NOW HIRING!  

Mid Atlantic - Northeast US



Richard Stebbins
This email address is being protected from spambots. You need JavaScript enabled to view it.
866-675-2540 x-107

SF Bay Area



Jake Martinez
This email address is being protected from spambots. You need JavaScript enabled to view it.
866-675-2540 x-102

South West - Mid West



Robert Bissin
This email address is being protected from spambots. You need JavaScript enabled to view it.
866-675-2540 x-106


email: This email address is being protected from spambots. You need JavaScript enabled to view it.          toll free: 866.675.2540



Earthwise Energy - more than a distributor...
We are your partner.


 

---